Jose "Lito" Tayag is an incumbent member of the CFC International Council.
Biography
Edit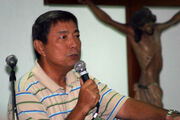 Lito (real name Jose) Tayag and his wife Linda have been with CFC for 24 years, having attended their Christian Life Program way back in October 1984.
Lito's list of service positions held in Couples for Christ is a long one, considering the length of time he and Linda have been in community and considering that Lito has never refused any service. This is not Lito's first time to serve as International Council member. He was elected to the Council way back in 1995 and served three terms until 2001. Prior to this, he was a member of the then CFC Board of Trustees from 1991 to 1995. Lito is a Certified Public Accountant and until his retirement very recently, was a partner at the Price Waterhouse Company, an accounting and auditing firm. He was only 19 when he graduated magna cum laude with a degree in Bachelor of Science in Business Administration from the University of the East. He took the accountancy board at age 20 and was in 14th place. Because he was so young, he could not practice his profession and so at the tender age of 21, he became a professor. He also holds a master's degree in Business Administration from the Pamantasan ng Lungsod ng Maynila.
It was while Lito was teaching that he met Linda. She was one of his students in Accounting. They got married on October 21, 1976 and the union has produced three children: Nina, now a dentist and serving in CFC Singles for Christ, Mito, a UP graduate and now serving in Tekton, also with SFC and Jenni, a marketing accountant with URC, also in SFC. Nina and Mito served in CFC Youth for Christ and they also went to different provinces and countries to conduct youth camps.
Lito and Linda are proudest of the fact that aside from their family, they have both brought into CFC and its Family Ministries all their blood brothers and sister.
http://couplesforchristglobal.org/v2.1/index.php?option=com_content&task=view&id=20&Itemid=53
Community content is available under
CC-BY-SA
unless otherwise noted.