Jose "Joe" Yamamoto is an incumbent member of the CFC International Council.
Biography
Edit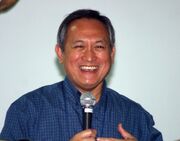 Joe Yamamoto is simply "Joeyam" to everyone. The distinguished surgeon does not mind not being addressed as doctor. He also does not mind people knowing that he came from a poor family and that his father exerted all efforts to ensure that his children could get the one treasure he could leave them—a good education.
These are the facts of Joe's life that he will not willingly announce to everyone: He graduated magna cum laude from his Bachelor of Science course at the University of Santo Tomas. Four years later, he also graduated magna cum laude, when he finished medicine from the same school. During graduation, he was awarded the Philippine Medical Association Award for Academic Excellence. He was also adjudged "Outstanding Intern for 1974" at the UST Hospital. When he took the medical board exams, he was the 6th placer.
It was in medical school where he met Mila, who would become his wife. What followed graduation was the usual residencies not only in the Philippines but in prestigious hospitals in Texas and Washington, DC, USA to further his training in cardiothoracic and vascular surgery. He also is a member of many medical boards and organizations. He has been an examiner of the Philippine Board of Surgery (Cardiovascular & Thoracic Specialty) from 1986 up to the present. He has received many awards but the one he treasures most is his being awarded the order of the Knight of St. Sylvester in 1999 by the Holy Father at the Vatican.
Joe has been a member of the International Council since 1997. Prior to that, he was also a member of the Board of Elders (1995-1997). From the time of its inception in 1997 up to the present, Joe has been head of the medical mission ministry. He is also a member of the GK Board.
http://couplesforchristglobal.org/v2.1/index.php?option=com_content&task=view&id=20&Itemid=53
Community content is available under
CC-BY-SA
unless otherwise noted.